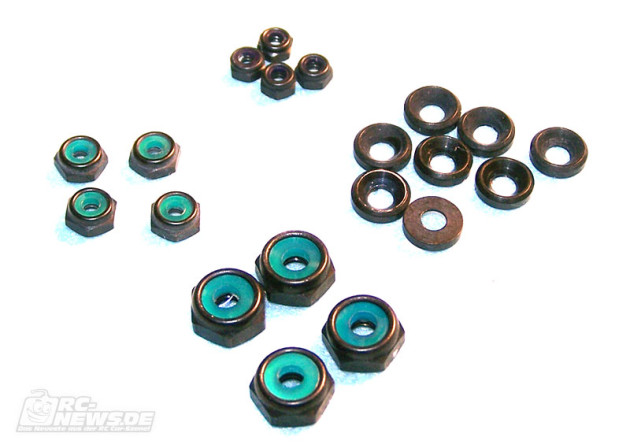 Die "Real Men Wear Black"-Serie von X Factory umfasst nun auch diverse zöllige Schrauben, Muttern und Scheiben in der Farbe schwarz.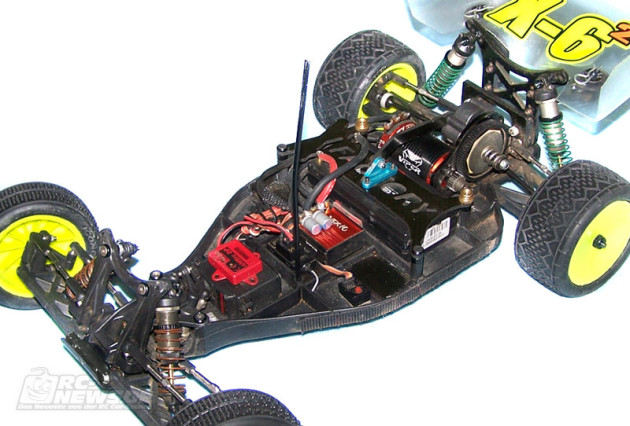 Hier ist ein mit "Real Men Wear Black"-Schrauben und Muttern ausgestatteter X-6 zu sehen.
Bored with blue? Tired of turquoise? Real Men Wear Black! X Factory adds four new hardware items to the Real Men Wear Black line so your R/C car can look totally dialed. If you are serious about racing, you want a serious race car. Check out Paul's dialed X – 6 Squared. The new hardware includes black counter-sink washers, and black locking nuts in 4-40 mini, 4-40 low profile, and 8-32 low profile to fit C.V.D. axles. All three sizes of locking nut are 4 per pack, while the counter-sink washers are eight per pack. Priced less than the blue stuff, now at fine hobby stores everywhere and soon on the X Factory web site. Stay tuned for further additions to the line of Real Men Wear Black parts.