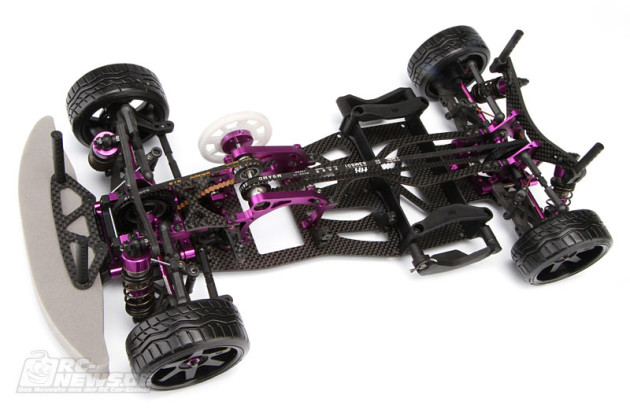 Hot Bodies stellt das High End-Driftchassis TC-FD nun offiziell vor. Der TC-FD basiert teilweise auf dem Wettbewerbs-Tourenwagen TCX, allerdings verfügt der Drifter über eine komplett andere Verteilung der Komponenten auf der Chassisplatte.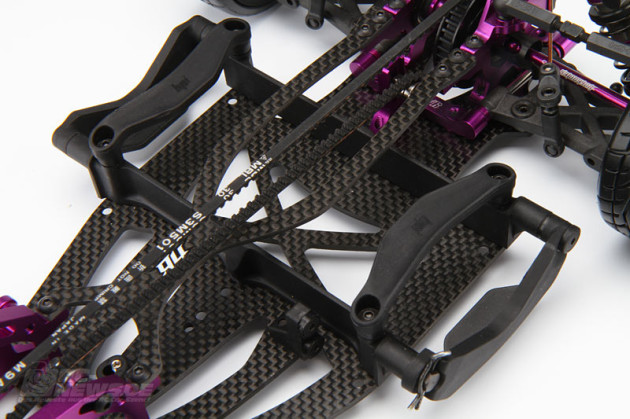 Der Akkupack liegt quer direkt vor der Hinterachse. Um genug Platz für den Riemen zu schaffen, wird dieser mit Umlenkrollen über dem Akkupack…
…und über den Motor geführt. Die Motor- und Akkuposition ist einstellbar und lässt sich wie gewünscht anpassen.
Die Achsen wurden vom HB TCX übernommen, allerdings verfügt der TC-FD über angepasste Lenkhebel vorne und Radträger hinten.
HB is proud to announce the all-new TC-FD. The TC-FD is a high end no compromise 1/10 scale electric drift chassis. It sets itself apart from the rest by being the most advanced and versatile chassis in the high end drift category. It utilizes a forward motor and rear battery configuration for the most optimized weight distribution possible. The motor and battery positions are also fully adjustable to allow for further fine tuning to achieve optimum performance. The TC-FD is also fully setup for Counter Steer Drifting with the optional Counter Steer Drift kit. Suspension components such as the aluminum threaded body shocks, aluminum toe blocks and bulkheads, are all taken directly from the World Class race winning HB TCX. In addition it also comes standard with newly designed front steering knuckles and rear hubs. Nothing but the finest in anodized aluminum and carbon fiber components are used throughout the TC-FD, from bulkheads to motor mounts and upper and lower decks to shock towers and everything in between. The entire driveline and steering assembly both spin freely on a full set of high quality ball bearings. The TC-FD holds nothing back, and takes drifting to a whole new level.
#68780 TC-FD KIT – $900.00
Quelle: Hot Bodies